Wynajem krótkoterminowy szybko zyskuje na popularności
Coraz więcej turystów i osób podróżujących przestaje szukać pokoju w hotelu i decyduje się na kilkudniowy wynajem prywatnego mieszkania lub apartamentu.
Zmęczeni bezosobowymi hotelowymi standardami turyści wybierają to rozwiązanie ze względu na prywatność, komfort i konkurencyjne ceny.
Większe
zyski
Większy zakres
wynajmujących
Odkryj zalety wynajmu mieszkania dla
osób podróżujących
Większe
zyski z wynajmu

Cena za pobyt jest wyceniana według stawki dziennej, co daje większe zyski niż w przypadku wynajmu tej samej nieruchomości na długi okres. W pespektywie miesiąca możesz zarobić znacznie więcej niż za najem długoterminowy. Wiąże się to jednak z większym zaangażowaniem, potrzebne jest stałe reklamowanie lokalu oraz bieżąca obsługa gości (przekazywanie kluczy, częste sprzątanie, regularny nadzór, pilnowanie rezerwacji).

Większy
zakres wynajmujących

Wynajem krótkoterminowy to możliwość zakwaterowania dla osób podróżujących prywatnie i służbowo. Turyści poszukują apartamentu na dni, tygodnie. Cenią komfort i samodzielność. Szukają mieszkań gustownie urządzonych z pełnym wyposażeniem, by mogli się czuć tak jak w domu.
Skorzystaj z pomocy operatora wynajmu
Zyskaj korzyści z wynajmu krótkoterminowego przy minimum zaangażowania
Renters.pl wspiera właścicieli apartamentów w zarządzaniu wynajmem krótkoterminowym.

Współpracując z czołowymi portalami rezerwacyjnymi dostarczamy najwyższej jakości usługi w zakresie wynajmu apartamentów.

Od 2018 roku obsługujemy apartamenty w kilkudziesięciu lokalizacjach na wybrzeżu i w największych miastach. Wywodzimy się z Pomorza Zachodniego, gdzie zajmowaliśmy się wynajmem krótkoterminowym od 2005 roku.

Większość zarządzanych przez nas obiektów trafiło do nas z polecenia innych właścicieli, którzy powierzyli nam swoje nieruchomości i cieszą się z zysków.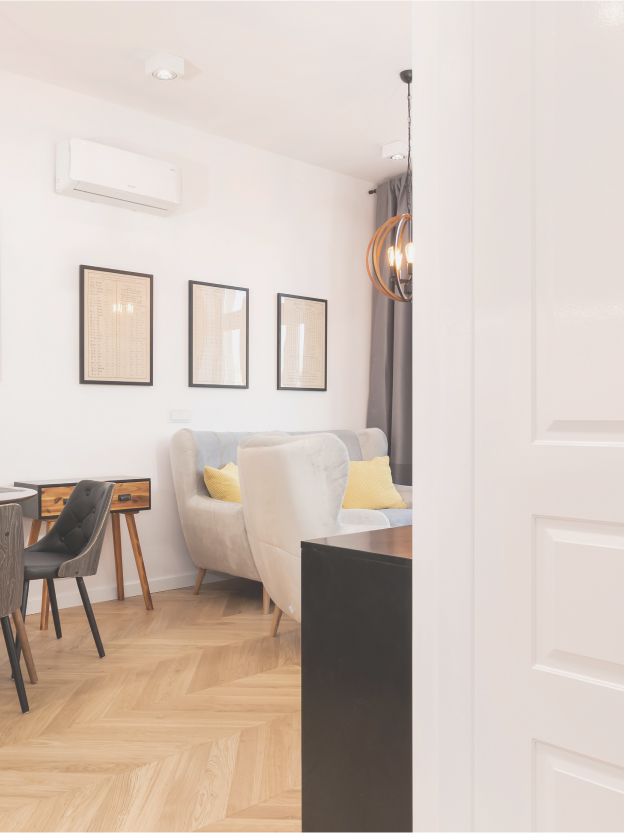 Apartamenty przygotowujemy zgodnie ze standardami panującymi w 5-cio gwiazdkowych hotelach.

Używamy wyłącznie wysokiej jakości pościeli i ręczników, zadbamy też o uzupełnienie środków higienicznych w łazience.
Co możesz zyskać?
Dzięki współpracy z operatorem, jak Renters.pl, możesz cieszyć się wolnym czasem, satysfakcjonującym, dodatkowym zarobkiem.

Rozpocznij z nami współpracę i zyskaj:
01

Święty spokój

Brak uciążliwych wiadomości i telefonów o każdej porze od najemców. Zajmiemy się wszelkimi sprawami związanymi z gośćmi i rozliczaniem pobytów. Do dyspozycji turystów oddajemy całodobową infolinię.

02

Dobre comiesięczne zarobki

Odpowiednio przygotowane mieszkanie przynosi wysokie zyski. Coraz więcej gości wybiera pobyt w apartamentach zamiast noclegu w hotelu. Popularny stał się wynajem mieszkań do pracy zdalnej.

03

Brak problemów z eksmisją

Wynajem krótkoterminowy charakteryzuje się brakiem problemu z najemcami, których nie można wykwaterować w przypadku problemów z brakiem płatności za pobyt.

04

Brak pustostanów

Krótko po przekazaniu nam kluczy mieszkanie jest już widoczne w portalach rezerwacyjnych i czeka na przyjazd pierwszych gości.

05

Brak kosztów startowych przy podjęciu współpracy

W przeciwieństwie do agencji nieruchomości nie pobieramy opłat przy rozpoczęciu współpracy. Zakupimy odpowiednią ilość pościeli, ręczników oraz wykonamy profesjonalną sesję fotograficzną na nasz koszt.

06

Możliwość pobytów właścicielskich

Każdy właściciel może skorzystać z mieszkania dla siebie lub swoich bliskich, zarówno w sezonie jak i poza nim.

07

Mieszkanie w bezpiecznych rękach

Po każdym pobycie sprawdzamy stan mieszkania oraz naprawiamy wszelkie pojawiające się usterki.

08

Brak długiego okresu zobowiązania

Umowę zawieramy na czas nieokreślony.
Popyt na wynajem krótkoterminowy utrzymuje się nawet w czasie większej niepewności gospodarczej.
Potrzeba podróżowania wśród ludzi jest niepohamowana.

Odnaleźliśmy się w trudnych czasach pandemii, lockdownu, wyższej inflacji i wojny. Satysfakcjonujące wyniki naszych klientów motywują nasz zespół do pracy jak i dowodzą, że jesteśmy najlepszym partnerem, który zadba o nieruchomość właściciela

Kamil Krzyżanowski,
Prezes Renters.pl