Short-term rentals are rapidly gaining in popularity
More and more tourists and travellers are no longer looking for a hotel room and are choosing to rent a private flat or flat for a few days.
Tired of impersonal hotel standards, tourists are choosing this solution for its privacy, comfort and competitive prices.
Higher profits
from apartment renting
Larger spectrum
of renters
Discover the advantagesy of renting an apartment
for travellers
Higher profits
from apartment renting

The stay is priced at a daily rate, giving you greater returns than if you rented the same property for a long period. On a monthly basis, you can earn significantly more than for a long-term rental. However, this involves a greater commitment, you need constant advertising of the property and ongoing guest services (handing over keys, frequent cleaning, regular supervision, keeping an eye on bookings).

Larger
spectrum of renters

Short-term rentals are an accommodation option for private and business travellers. Tourists are looking for an apartment for days, weeks. They value comfort and independence. They are looking for apartments that are stylishly furnished with full facilities so they can feel at home.
Take advantage of a rental operator
Get the benefits of short-term rental with a minimum of commitment
Renters.pl supports apartment owners in managing short-term rentals.

Working with leading booking portals, we deliver the highest quality apartment rental services.

As of 2018, we serve apartments in dozens of locations on the coast and in major cities. We originated in the Pomorze Zachodnie [West Pomeranian] region, where we have been involved in short-term rentals since 2005.

Most of the properties we manage have come to us on the recommendation of other owners who have entrusted their properties to us and are enjoying the profits.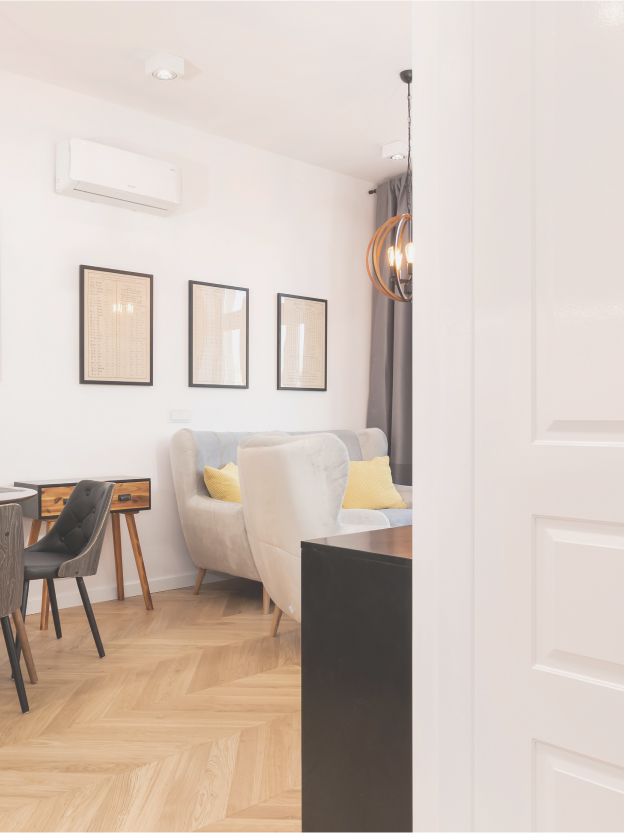 We prepare the apartments according to the standards of 5-star hotels.

We use only high-quality bed linen and towels, and we will also take care to replenish the hygiene products in the bathroom.
What can you gain?
Thanks to cooperation with an operator like Renters.pl, you can enjoy free time and a satisfying extra income.

Start working with us and make a profit:
01

Peace of mind

No annoying messages or phone calls at any time from renters. We will take care of all matters related to guests and billing of stays. We put a 24-hour hotline at your disposal.

02

Good monthly income

A properly prepared apartment brings high profits. More and more guests are choosing to stay in flats instead of hotel accommodation. Renting apartments for remote working has become popular.

03

No eviction problems

Short-term rentals are characterised by the absence of the problem of renters who cannot be evicted in the event of problems with non-payment of their stay.

04

No vacancies

Shortly after the keys are handed over to us, the apartment is already visible in the booking portals and awaiting the arrival of the first guests.

05

No initial costs when you start a cooperation

Unlike real estate agencies, we do not charge an initial fee when you start cooperating with us. We will purchase the appropriate amount of bed linen, towels and carry out a professional photo shoot at our expense.

06

Owner's right of use

Any owner can use the apartment for themselves or their loved ones, both in and out of season.

07

Apartment in safe hands

After each stay, we check the condition of the apartment and repair any faults that arise.

08

No long term commitment

We conclude a contract for an indefinite period.
Demand for short-term rentals persists even in times of greater economic uncertainty.
The need for people to travel is unstoppable.

We succeeded in difficult times of pandemics, lockdowns, higher inflation and war. A satisfying result from our clients motivates our team to work as well as proving that we are the best partner to take care of the owner's property

Kamil Krzyżanowski,
President of Renters.pl